SHOP FOR GENUINE CATERPILLAR SPARE PARTS IN THE PHILIPPINES
From parts availability to accessibility, we've got you covered.
With over 148,000 various Genuine Cat® Parts manufactured with reliable cleanliness, powerful design and consistent quality, we will never let your expectations down.
Available for Pick-up and Delivery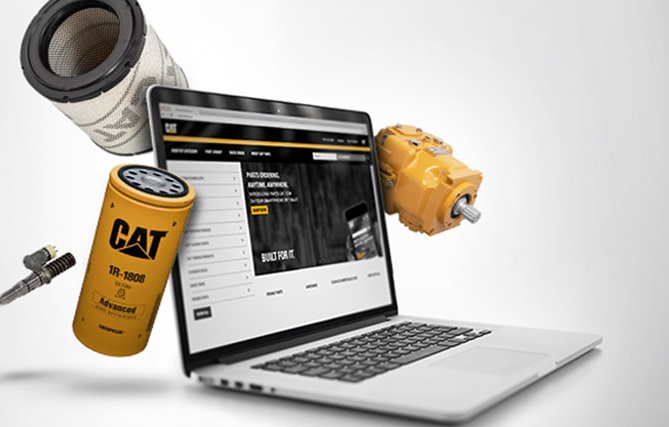 Cat® Fluids are designed specifically for Cat® machines and offer improved life and engine performance. They are expertly engineered, designed, and tested through extreme conditions and applications. Caterpillar offers many greases, coolants and oils for specific applications and components.
CAT® COOLANTS

ELC™ (Extended Life Coolant)
ELI™ (Extended Life Inhibitor)
DEAC™ (Diesel Engine Antifreeze/Coolant)
NGEC™ (Natural Gas Engine Coolant)

DIESEL EXHAUST FLUID (DEF)
Helps engines achieve "lean burn" to prevent the exhaust of unburnt fuel.

CAT® GREASES

Utility Greases
Prime Application Grease
Extreme Application Grease 1 & 2
Extreme Application Grease – Arctic
Extreme Application Grease – Desert

CAT® OILS

DEO™- Diesel Engine Oil
NGEO™ – Natural Gas Engine Oil
Gear Oil and Synthetic Gear Oil
Hydo™ Advanced and Bio Hydo™ Advanced – Hydraulic Oil
Specialty Oil (tractor oil for Cat Backhoe Loader rear axles and Cat Challenger Tractors)
TDTO™ – Transmission & Drive Train Oil (including Synthetic lubricant blend for cold weather)
FDAO™ – Final Drive and Axle Oil
| | |
| --- | --- |
| | The reliability of your truck and automated equipment begins with a reliable battery. You need to have confidence that your battery will start your equipment every time, even in the most adverse environments and extreme temperatures. The best way to assure your commercial equipment and automotive vehicle will start is to install Cat® Premium High Output, General Service Line or Uninterruptible Power Supply batteries that are manufactured to Caterpillar's high quality standards. |
THE BEST BATTERY IS A BATTERY YOU CAN TRUST
PREMIUM HIGH OUTPUT (PHO) BATTERIES
Cat® PHO batteries are designed to stringent specifications. They are factory installed on all Cat® machines and generator sets and manufactured to provide higher starting output and vibration resistance than standard machine batteries. That's why no matter how extreme the weather Cat® PHO Batteries are ready to work when you are.
GENERAL SERVICE LINE (GSL) BATTERIES
Cat® GSL batteries are designed for the best performance of your light-duty truck, automotive and recreational vehicles. Our high quality 6, 8, and 12 Volt GSL batteries meet and exceed industry standards. You can count on Cat® GSL Batteries for your next road trip or long haul.
UNINTERRUPTIBLE POWER SUPPLY (UPS) BATTERIES
Cat® UPS batteries are designed to provide power instantly in order to protect your sensitive computer or manufacturing equipment against possible damage from surges or dips in voltage or current. Cat® UPS batteries can also power essential hospital or mission critical loads during a power outage, assuring that you meet NFPA 110 standards. Do your "Best Business Practices" include installing Cat® UPS batteries for your vital equipment?
FAST REPLACEMENT
When you need a replacement battery, most times dealers have your PHO and GSL batteries in stock and ready to install. If they don't have what you need, they can get it for you quickly using the worldwide Cat® parts network.
EXCELLENT WARRANTY
We stand behind our batteries with one of the best warranty programs in the industry. Give your dealer a call for more details on the replacement and warranty program.
Cat® Ground Engaging Tools (G.E.T.) are the only heavy duty tools engineered with your entire business in mind – built by the industry leader and designed to perform in tandem with Cat® buckets and machines. The result is a ground breaking system optimized for productivity the moment you hit the ground.

Choosing the right G.E.T. can make a big difference in your operation's productivity and profitability. That's why Caterpillar offers a wide array of integrated ground breaking equipment add-ons built to specific application requirements. Increase your machine productivity by matching G.E.T. products to your specific applications.
BLADE, BUCKET AND RIPPER SHANK PROTECTION
Our construction, mining, agricultural and other earth moving customers rely on high quality Cat® G.E.T. for maximum protection against structural harm and machine wear use; to protect their costly blades, buckets and ripper shanks.
Cat® G.E.T.: For your Cat® machines:
Edge Protection
Excavators
Adapters
Dozers
Ripper Protection
Loaders
Cutting Edges
Backhoe Loaders
Sidebar Protection
Motor Graders
Tips
Paving Equipment
Wear Protection
Rippers
Scrapers
Caterpillar warrants most ground engaging tools against breakage during normal operation. If a piece of Cat® G.E.T. breaks, Caterpillar will replace it at no charge. See your Cat® dealer for complete warranty details.

OVER 100 YEARS OF UNDERCARRIAGE INNOVATION

Cat® undercarriage parts work as a powerful system to propel your machine over all types of terrain. Most importantly, we know how to help you get the most from your undercarriage investment. When you consider that 50% of a track-type machine's owning and operating costs come from its undercarriage, it makes sense to invest in a system that will deliver the most value to your bottom line.

Below are examples of Caterpillar machines we carry undercarriage parts for:
257B, 277B, 287B, 247B, 277C, 941B, D4H, 277, D3B, and D3.
Caterpillar: The Only Original Equipment Manufacturer That Designs and Produces Its Own Undercarriage.
SUPERIOR ENGINE PARTS IMPROVE ENGINE PERFORMANCE

Caterpillar knows engine parts must endure incredible stresses and extreme temperatures. That's why we continually improve design and manufacturing processes.

We want to ensure Cat® engine components work together as a complete system and can be remanufactured for a second life. Test after test identifies critical differences between Cat® engine parts and competitive parts – differences that allow Cat® engine components to improve:
Engine performance
Increase productivity
Reduce your owning and operating costs
GENUINE CAT® PARTS:
Cylinder Heads

Crankshafts

Seals and Gaskets

Valves

Piston & Piston Rings

Liners

Bearings

Connecting Rods

Radiators

Thermostats

Waterpumps

Spark Plugs

Turbos

Fuel Injectors
Guaranteed for fit and function, Cat® Parts offer the right combination of quality and price for your engines. Plus, Cat® Parts provide something that other brands can never match – the total support available at Caterpillar Authorized Service Locations.
Final drive and transmission parts work together to transmit power to the ground and propel Cat® earthmoving equipment through a variety of applications all over the world. Genuine Cat® drive train parts, along with excellent maintenance and repair options, result in maximum productivity and lower owning and operating costs.

Drive train components that must endure:
Incredible torque
High impact loads
Frequent direction and gear changes

Caterpillar designs and manufactures its transmissions and final drive components with these demands in mind. The result is a drive train that lasts longer and works harder over the life of your machine.
DRIVE TRAIN PARTS
Gears

Bearings

Friction Materials

Transmissions

Torque Converters

Drive Shaft

Differential

Final Drive

Brakes
| | |
| --- | --- |
| | Today's equipment is hydraulics-intensive. So more and more, the decisions machine owners make about their equipment's hydraulics directly impact their bottom line. |
HYDRAULIC PRODUCTS, SERVICES AND EXPERTISE
Cat® dealers work with hydraulics every day, and have the products, services and expertise to help machine owners make decisions to
Achieve maximum component life
Extend oil change intervals
Keep the hydraulic system running at peak efficiency
Cut service costs and unplanned downtime.
Partner with Monark for your major component requirements under Parts Exchange (PEx) Program to enjoy minimum repair time and maximum machine availability.
Components under Monark's Parts Exchange (PEx) Program are remanufactured to like-new Caterpillar specifications following industry-leading safety practices. All components under the program underwent the strictest quality control and the most innovative manufacturing processes in the industry.

Comprehensive Cleaning and Inspection
Safe Work Practices
Strict Quality Management
Effective Contamination Control
Latest Product Updates
Rigorous Testing
Genuine CAT® Parts
Warranty Information
Generally, warranty for parts purchased on Parts.Cat.Com is 12 months from the invoice date as defined in the Caterpillar Limited Warranty. Parts Warranty covers defects in material and workmanship throughout the Warranty period once it has been installed. For complete Warranty detail contact your local Cat Dealer.
Monark Return Policy
All parts must be returned in original packaging, parts in damaged packaging will not be accepted for return. Parts for returns are only accepted under the following conditions. Returns will only be entertained within 60 days from the date of purchase together with accompanying proof of purchase.