As Filipino builders eye for a solid rebound, Monark positions itself to expedite the rebuilding and recovery efforts of the construction sector through solid partnerships with various industry players, especially the local SMEs. Being the country's leading heavy equipment supplier, they are continuously expanding their heavy equipment fleet to provide customers with quality solutions in achieving their business recovery plans within the next months. The Philippine construction sector is expected to recover moderately, with a growth of 9.5 percent by the end of 2021, as forecasted by Fitch Solutions.
Construction companies can sustain their upward recovery with innovative equipment from Monark, such as the Cat® 306.5 Mini Hydraulic Excavator. It delivers industry-leading performance with advanced features, for instance, its Stick Steer mode, fuel efficiency, and the Next Generation LCD monitor. The 6-tonne heavy equipment is designed with customers in mind, guaranteeing efficiency and high value with its streamlined maintenance and improved operator experience.
Outstanding Features with Cat®'s Next-Generation Line of Mini Excavators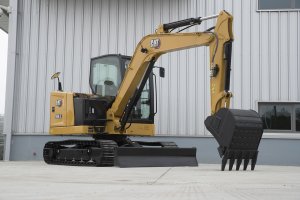 Cat 306.5 Mini Excavator
The 306.5 mini excavators are equipped to handle heavy-duty work. It features an increased lifting capacity (up to 2,115 kg at a 3-meter radius), enhanced uphill swing torque, travel, safety features, and multi-functioning performance ideal for a wide range of applications.
The Cat® C2.4 Turbo engine (net power at 34.9 kW) powers the machine for consistent performance with a wide speed range. On top of that, the automatic engine idle and shutdown feature allows the equipment to reduce fuel consumption.
With an operating weight of 6,175 kg, it renders a maximum dig depth of 3,902 mm. Its fixed boom has a standard 1,585 mm tail swing with a counterweight for stability. The machine's entire main structures are designed after the larger Cat® excavators for long-lasting durability. The 306.5 emphasizes operator safety with an optional backup camera, courtesy work lights, and a fluorescent retractable seat belt.
Combining all these features in a compact design delivers excellent productivity and time-saving efficiency in any construction project.
Comfortability and Operating Efficiency Takes Top Priority
The 306.5 Mini Hydraulic Excavator focuses on all-day comfort. Its sealed and pressurized cab boasts an improved air-conditioning system, a suspension seat, and adjustable wrist rests for maximum operator comfort. Operators are instantly familiarized with the controls' layout and components consistent in the Cat® Next-Generation line of mini excavators.
Traveling from point to point is made easier with the stick steer system, an exclusive feature of the Cat® 306.5, providing operators with effortless control and movement using joysticks. They can easily switch from standard lever/foot-pedal steering to the simplified stick steer travel mode with a touch of a button. Another associated function is the ergonomic cruise control feature, allowing operators to travel long distances with relative ease and comfort. They can also conveniently select their preferred joystick movements using the intuitive pattern changer.
The Next-Gen standard LCD monitor provides customizable operator settings, jog-dial for navigation, and Bluetooth® connection. Operators can easily gauge the equipment condition with easy-to-read machine information detailing available fuel, coolant temperature, hour meter, and machine maintenance history.
Exceptional Dealer Support
Convenient ground-level access to maintenance checkpoints and extended service intervals offers less downtime and reduces ownership, operating, and repair costs. With the quick and easy maintenance of the Cat® mini excavator, construction companies can meet deadlines smoothly and on time.
Amid the pandemic disruptions, Monark propels businesses forward with innovative and quality equipment solutions on the road to recovery.
RELATED:
https://business.inquirer.net/333874/monark-partners-with-ph-builders-towards-gradual-recovery
https://manilastandard.net/spotlight/369506/monark-partners-with-ph-builders-towards-gradual-recovery