Monark is primed and ready to tackle the challenges of 2021 with its extensive digital initiatives this year. The heavy equipment magnate is expanding its online presence by improving website functions, launching new online shopping outlets, holding virtual events and more.
The initiatives are in line with Monark's vision to "Transition, Transform, and Transcend" the ever-shifting landscape of the industry mid-pandemic. Read on for a run-through of Monark's latest projects to look out for.
Improved inventory page for used CAT machines
Shopping for used CAT machines for great deals just became easier with Monark's refreshed inventory page. Now, all you need to do is find the equipment type you need by model, with an option to filter by hours of use.
Browse deals of up to 40% off that come with warranties of up to 12 months. Shop from Monark's official site worry-free, as each used equipment has been inspected and CAT-certified for your peace of mind. Support and after-sales services are also readily available for customers.
Revisit the 320 Great CAT Virtual Sale
Following the success of Monark's first virtual yard sale last October, the 320 Great CAT Virtual Sale came back for a second time last March 10, 2021. The online event featured used units of CAT's 320GC Hydraulic Excavators that have gone through a rigorous 140-point quality check to assure performance. Units went for a whopping P320,000 less than their actual machine price.
On top of the bang-for-buck deals, CAT also threw in an inland shipping subsidy worth P80,000, 12 months or 2,000 hours warranty (whichever comes first), and 12 months of Customer Value Agreement for each item sold. The 320GC model is an impressive machine that boasts maximum performance while also reducing costs on fuel by up to 20% and maintenance repairs by up to 25%. Do you want to get in on the action? You can still view the Facebook Live session on Monark's official page.
Shop for CAT parts online at PARTS.CAT.COM
You can now shop for CAT machine parts at the push of a button with CAT's brand-new parts website. Browse a catalog of over 1.4 million authentic CAT parts and have them shipped anywhere via 2GO Express, or schedule them for pick up at a partner dealer store near you. With real-time pricing and parts availability updates, machine parts hunting has never been more simple.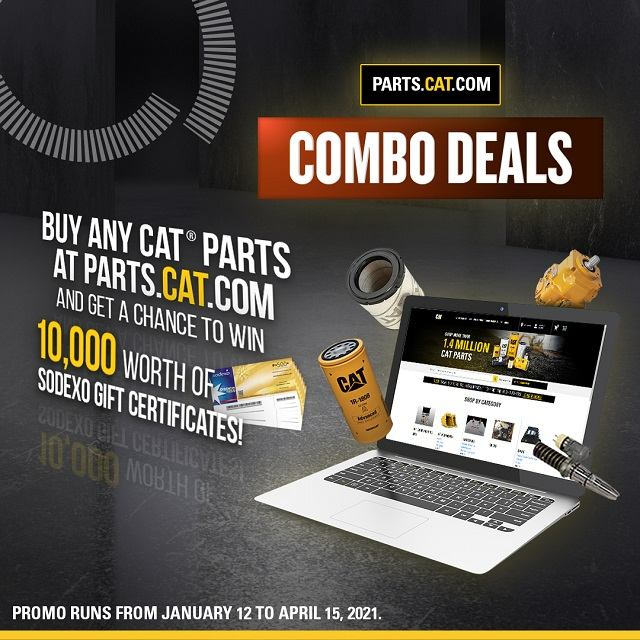 Monark is also currently holding a raffle for website shoppers. For every accumulated purchase worth P20,000 at the new PARTS.CAT.COM site, customers will be entitled to one Combo Deals Raffle ticket. Genuine CAT Filters are also on sale at 20% off—just simply purchase 5 filters of any combination at Parts.Cat.com and instantly avail the discount.
Launch of contactless payment via GCash
Finally, Monark is officially launching an in-store e-wallet payment option via GCash for safer, seamless transactions. The first three branches to open this option are Monark Quezon City, Monark San Pedro, Laguna, and Monark Caloocan City. A nationwide rollout for all Monark branches is also underway, so stay tuned.
RELATED: https://mb.com.ph/2021/03/26/heavy-equipment-dealer-surpasses-new-normal-challenges-with-cashless-payments-new-online-platforms/