Monark Equipment Corporation proudly continues to serve the Filipino construction industry for 35 years. The company is the leading Caterpillar heavy equipment provider used for essential infrastructure projects across the nation. As thanks for the support, Monark gives back to its stakeholders with massive discounts on CAT machines!
Start off the month of June with a special promo for our CAT M315 Wheeled Excavator: Get up to Php 200,000 off SRP when you buy this gorgeous excavator before the month ends!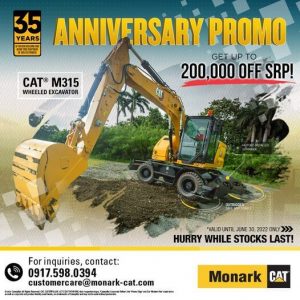 More about the CAT M315 Wheeled Excavator
The MONARK CAT M315 is a highly versatile wheeled excavator known for its robust engine that delivers excellent performance on the construction site. The excavator also provides 15% more swing torque and can save you up to 10% in maintenance costs!
Essentially, you're getting a powerhouse that can work long hours without breaking up from exhaustion. The excavator boasts a high-ambient temperature capacity of 52°C (125°F), allowing it to be more than capable of working in the hottest summers of the year. Moreover, operators can work better with this machine thanks to its comfort and deluxe cab options that help adjust to the user's needs during high-pressure scenarios.
The M315 is an excellent Caterpillar heavy equipment to invest in. And with our special month-long promo, get it for a more affordable price!
If you're interested in this offer, send us a message on our Facebook page! You can also call our Monark Helpline at 0917-598-0394 for inquiries. Promo runs until June 30, 2022.
Monark Equipment Corporation is the leading Cat® dealership and heavy equipment supplier in the Philippines. Established in 1962, it continues to be at the forefront of the country's construction sector, committed to providing excellent and internationally acclaimed brands in heavy machinery and power systems machines for diverse construction projects and industries.